Most professions that deal with the public often require CPR training. The first that come to your mind might be nurses, firefighters, police, lifeguards and school employees. However, any work environment that has interactions with the public in New Jersey can benefit from Oceanside CPR classes. Because, the reality of life is that you can never know when an emergency situation will arise and life-saving skills will become the difference between life and death. Are you confident that your staff knows how to act in the event of a life-threatening emergency? Keep your staff's certifications up-to-date and learn how to perform CPR with confidence.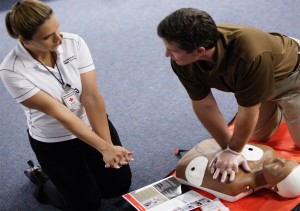 Take the CPR Classroom to You
As a full-service New Jersey CPR class safety company, Oceanside CPR conveniently offers complete BLS (Basic Life Saving) techniques and first aid for company of all sizes. We come to you…on your schedule. Learn emergency preparedness in a fun, fast paced environment and even enjoy a discounted rate per person for group classes!
Be a Lifesaver
Whether you need your CPR/AED course completion card to meet a specific job requirement or you're a healthcare professional who needs to know how to perform CPR in a hospital setting, our courses are designed to give you the confidence to recognize and act on several life threatening emergencies in a safe, timely and effective manner. It's difficult to predict where and when a sudden cardiac arrest will occur; however, studies have identified other out-of-hospital high-incident locations including airports, community centers, sports complexes, schools, doctors' offices, public transportation terminals, gyms, jails, and malls. So, no matter where you are or where you work, having CPR knowledge and skills can literally be a lifesaver.
You Choose the Class
Choose the classes that fit your company's needs most including: CPR and AED training, AHA BLS for healthcare professionals, pediatric CPR and first aid, basic first aid, and/or babysitting safety. We'll provide everything needed for the on-site CPR class including CPR manikins, AED trainers and face shields. All of our CPR instructors are on-time, professional, friendly and efficient (plus we offer more than 25 years of certified experience).
Don't Hesitate- Recertify
The American Heart Association recommends a bi-annual CPR class with an actual CPR recertification every 2 years. The practice behind the best way to administer CPR is always being researched and improved, so while the basics of CPR will remain the same, you'll gain new knowledge with a CPR recertification.
Get Certified with Private On-Site Oceanside Group CPR Classes in New Jersey
Studies show that starting CPR and using an AED saves lives. Once the heart stops beating, every moment is critical. Find out more about scheduling a private group CPR training class for your company or organization today.